Date: Thursday, October 25, 2018
From: Bob
Simon Succumbs to the Delights of Smoko
The reason this postcard has been so long in coming is not because of the Swiss postal service because as we all know the Swiss are efficient in all things (some say they are Germans with obsessive, compulsive disorder), but because I have witnessed the upset that a sudden drop in a jogger's performance can have on his family. So after much consideration, and hence the delay, I believe it is in the best interests of furthering the Feral Jogging Movement that this story must be told.

Recently Jan and I were on a European River Cruise with a group from Griffith. Simon Fattore's parents, Sergio and Angelina, were in the group, so I thought they would enjoy hearing how Simon and Fiona were running on the hill. So every Sunday morning I would go to our website, download their performances and report to Serg' and Angelina. This was something of a mixed blessing for them.

While they were very pleased with Fiona's performance (she was consistently in the top 10, frequently in the first three placings), Simon's performance (usually languishing at the tail of the field, and being beaten by Fiona not only on handicap but also her net times) was a great disappointment to them both. While Angelina struggled to explain away Simon's sudden slump in performance, Serg' said he knew what was causing it and why it was happening now.

Apparently, Simon has a fondness for all things on offer on the Smoko Van, and with Sergio not at home to curtail him, he believed Simon was having extended Smokos and sampling everything the van had to offer. Serg' believed there could be no other plausible explanation for such a sudden and dramatic slump in form! Simply put, while Sergio was away Simon was immersing himself in a Smoko binge. He also recalled how overly enthusiastic Simon was to see them go on this trip!!

So while Jan and I continued our trip into Switzerland and northern Italy, Sergio and Angelina made a hasty return to Griffith to rescue Simon from the temptations of the dreaded Smoko van.

I'm glad to report that since Sergio and Angelina's return, Simon's performance on the hill (and I believe his efficiency in the workshop) have returned to something he, and his parents can be proud of.

FERAL RULE 106b: Good jogging requires self-discipline and good, sensible diet. This is a rule I have endeavored to strictly adhere to over many years of slogging it out on the hill.

Regards Bob Barker.

PS. Have included 2 photos, the first is me with Simon's parents who put on a brave face for the photo, the second of me after a brisk run around the foreshore of Lake Como.
---
Date: Saturday, October 13, 2018
From: John
John eats, walks ... no running on a full stomach
Hi all, currently spending time in a little town called Possagno in northern Italy. It is home to the famous sculptor Antonio Canova with approximately 2,000 people and is not far from Venice. The area is hilly and makes for great walking (I have eaten too much here to run). The weather is unusually warm which is a bonus also although I just wish I didn't pack so many winter clothes. I have made many trips to Venice. I trust all is well back home.
---
Date: Wednesday, June 27, 2018
From: Neil
Melburn Roobaix delivers
Melburn Roobaix 2018 ... done! Officially 48km, I did closer to 90km with getting to the start, and back from the finish. This year's distractions included : serious bicycle traffic jam along the Yarra Trail, coffee at Coffee Supreme sponsor, beer and food at Temple Brewing sponsor, climbing ridiculously steep steps with bike, free mulled wine by sponsor, cupcake and cowbell giveaway, several navigation errors, filling out competition entry forms, laughing at weirdly dressed riders on crazy bikes, cobbles, gravel and back street graffiti and scenery.
---
Date: Sunday, May 6, 2018
From: Tom
I'll take that as a Postcard Tom
Missed Ferals yesterday. Here's why. Completed the Nail Can Hill Run. They weren't kidding when they said some serious uphill sections! Everyone walked the hill around the 3km mark as you can tell from the times. After that it was all downhill, followed by more uphill, then repeat a few more times.
Really happy with that time and results. I think Monaghetti retains his record of just under 35 minutes. Goes to show how good he was.
---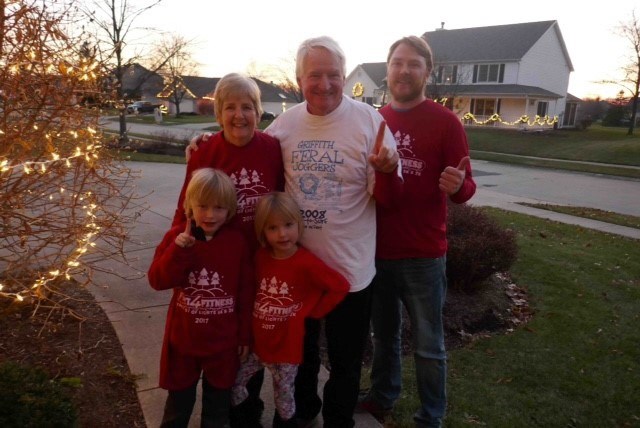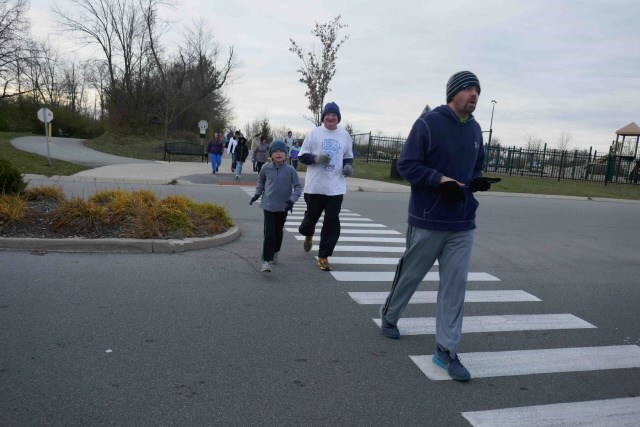 Date: Wednesday, January 24, 2018
From: Bob
Round Two with Trumpie
Trip 2: How to Beat Trumpies Censorship Squad - The Postcard was posted at Sydney Airport
Just returned from the United States of Trumpia where we celebrated Thanksgiving with our Trumpian family who live in Fort Wayne (F troop country, and yes, Fort Wayne does have a replica of its fort). As it was early Autumn there were a number of runs organised before their snow season begins, and we had been entered into two of them, Fort4Fitness (10k and 5k runs. As I was on holidays I entered the 5k run) and the 'Fort Wayne Thanksgiving Turkey Trot'. The Fort4Fitness run was a twilight run which runs through the riverside parks. As the lead runners (not me, maybe I was slowed by jet lag) pass different points the town's Christmas lights are turned on for the first time, very impressive. The Turkey Trot is run early on Thanksgiving Day and is very social with lucky draws,etc..
The Griffith Feral Joggers shirt was a bit of a conversation starter with the locals, some thought I came from Griffith, Illinois (south east of Chicago).
All in all two very interesting trips to a country that is truly blessed with natural beauty and wealth, and many, many of their people are also very welcoming and pleasant ... it's just the others that are a worry!